Project Overview
This international airport project involved the reconstruction of the space between two terminals. The construction included two new connections—one presecurity and one post-security—as well as a multi-story office building.
Confronted with multiple logistical challenges, this ENR top 50 contractor needed a way to save time and increase efficiency, so they turned to StruxHub's field management platform.
Deliveries & Logistics Challenges
The Project Team was seeking a solution for the following logistics challenges:
Routing of delivery vehicles
The Project Team needed to efficiently route delivery vehicles to designated landside and airside offloading zones. The airside locations required vehicles to pass by specific entry gates and present specific access passes in order to be inspected and escorted by airfield operations personnel.
Field Engineer

"Prior to StruxHub, it was a struggle to keep up. I had a 6 by 5 ft whiteboard in a conference room. I wasn't able to collect delivery requests from our trades and announce them to the airport in time."
Just-in-time-delivery
The project had limited laydown space and required thorough coordination to ensure that there weren't too many deliveries arriving at the same time.
Read more: Top 7 Benefits of Lean Construction Practices
Minimizing disruptions on landside
For landside deliveries, the project needed to minimize disturbances with the normal public traffic at the exterior of the terminal entrance, as well as in the interior where materials were hand-carted to final workfaces.
Registering delivery bookings in advance
The project was required to comply with the security requirement to announce all vehicles entering secured airside zones the week before the scheduled appointment.
Tower crane coordination
The Project Team was looking to facilitate the coordination of the single-tower crane between all subcontractors on-site.
Less painful delivery scheduling
The Project Team also wanted to replace their whiteboard-based workflow for scheduling deliveries, which was both difficult to maintain and slow.
Read more: The Top 5 Benefits of Implementing Construction Scheduling Software for Your Field Teams
The Solution
Sitemaps & Space Allocation
With StruxHub Deliveries, the Project Team was able to mark up and effectively communicate up-to-date sitemaps indicating sectors, entry gates, routes, offloading zones, and points of interest. To reduce congestion, the busiest trades were allocated specific offloading and laydown zones.
Granular Delivery Routing
With StruxHub's site logistics controls, the Project Team could define hours of operation, closures, as well as permitted gates, routes & resources for all landside and airside offloading zones. This helped route vehicles efficiently and safely on site, as well as simplify booking forms.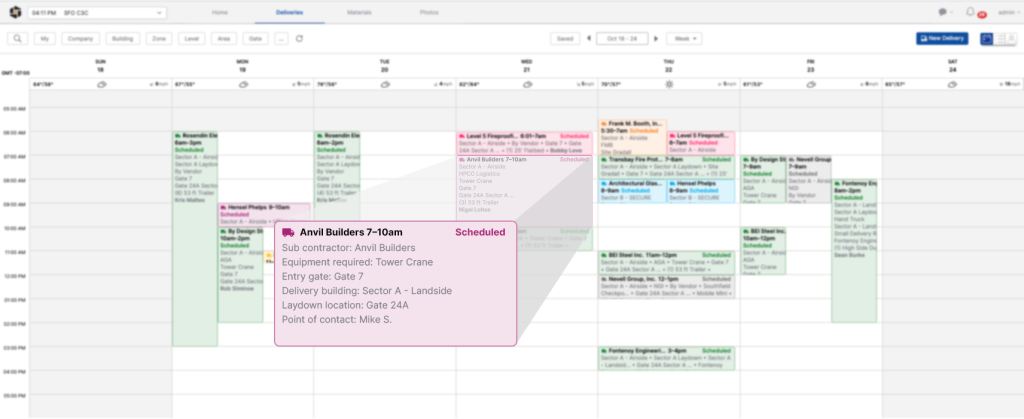 Communicating the Right Maps to Drivers
With StruxHub's smart map tagging system, vendors and drivers are automatically sent the specific sitemaps and instructions pertinent for their delivery.
Delivery Booking Deadlines
The Project Team helped nudge their trades to develop the habit of booking in advance by setting a deadline for delivery requests.
Crane Calendars
Using StruxHub's convenient calendar filters, the availability of the tower crane could be easily visualized by all trades before submitting a request.
The Results
StruxHub's Delivery management system allowed the Project Team to execute just-in-time deliveries while complying with security requirements and reducing congestion, delays, and the effort needed for coordinating deliveries and site logistics.
In terms of savings, the Project Team estimated that StruxHub saved at least 4 hours per week for a Field Engineer and eliminated over 50% of the time spent in the field to coordinate deliveries. This saved time was reinjected into production work, which translated into greater efficiency for the field teams.
Area Superintendent

"During our recent Project Risk Assessment, upper management was really impressed with how StruxHub was improving material handling, crane use time, and safety procedures for getting vendors in and out of the site."
Want to streamline your construction management processes? Schedule a demo to learn how StruxHub can help you:
Schedule material deliveries with your trades
Coordinate site resources and on-site logistics
Communicate and track P6 and Excel schedules
Broadcast announcements to field teams